Audio Transducers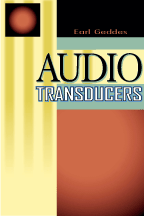 Audio Transducers is written by Drs. Earl Geddes and Lidia Lee who represent over 50 years of R&D in transducers and psychoacoustics. This text is the most comprehensive discussion of the theory of acoustic transducers available anywhere. There simply is no other text like it.
"Audio Transducers is a book that belongs on every audio engineers and audio technicians bookshelf"
Vance Dickason, Voice Coil, Nov. 2002
The Contents are available for review.
The updates page contains errata and new material.
The price of this premium quality hardcopy text is $69.95 (plus shipping and handling for special shipments)
Please make sure that you want this book as there are no refunds.
| | | | |
| --- | --- | --- | --- |
| Destination | Shipping and Handling | Total cost | |
| US - surface (about 1 week) | 8.95 | 78.90 | |
| non-US - air (7 - 10 days) | 19.95 | 89.90 | |
There are two payment options: (Please pay the correct amount if this is an air shipment.)
1) The easiest is to pay through Paypal
2) Or send a check for the correct amount to:
Gedlee Associates
43516 Scenic Lane
Northville, MI 48167
(Paypal is fast and simple and reduces my overhead - allowing me to keep my prices low.)