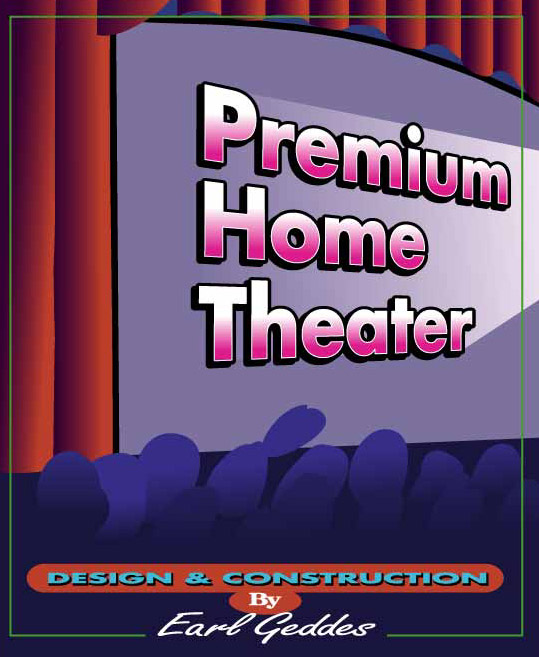 This book describes the ins and outs of designing and building a Premium Home Theater. It is aimed at the curious reader who is familiar with audio and video technology, but does not have any formal training as such. The math is minimal with only about a dozen equations throughout the entire text. No one should contemplate the large financial expenditure of time and money involved in the creation of a Premium Home Theater without reading this book. It will save you far more than its purchase price.
Based on more than twenty years of experience by Drs. Geddes and Lee in this area, the book presents new and unique techniques for assembling a theater experience in one's own home comparable to that of a commercial theater. Topics covered include; using a PC as the control center; using a low cost PC projector as the video source; designing a small room with the right acoustics (small rooms and large theaters behave very differently!); controlling the noise both into and out off of the theater; choosing or designing loudspeakers for home theater; and much more.
I will be posting the chapters from my book on Hone Theater here for free downloading. Hopefully these can be used as references in web discussions on various topics. I am editing each chapter as I post it in order to make it as up to date as possible so this will delay posting of later chapters. Some of the material on projectors, etc. is so out of date that I may not bother to update it.
The price of this premium quality soft cover book is $39.95 (plus shipping and handling for special shipments).
| | | | |
| --- | --- | --- | --- |
| Destination | Shipping and Handling | Total cost | |
| US - surface (1 week) | 5.95 | 45.90 | |
| US - air (about 3 days) | 10.95 | 50.90 | |
| non-US - air (7 - 10 days) | 14.95 | 54.90 | |
There are two payment options: (Please pay the correct amount if this is an air shipment)
1) The easiest is to pay through Paypal (click the appropriate link in the table above)
2) Or send a check for the correct amount to:
Gedlee Associates
43516 Scenic Lane
Northville, MI 48167
(Paypal is fast and simple and reduces our overhead - allowing us to keep our prices low.)